Ticket Priority Matrix and Service Level Agreements
This page describes the CNS Service Desk ticket flow, which is based on Information Technology Infrastructure Library (ITIL) standards.
Work is categorized as one of the following: Reactive Support, Request, or Project.
Reactive  Support tickets are for IT service interruptions.
Requests are for new functionality that takes less than 4 hours to complete.
Projects are for new functionality that takes more than 4 hours to complete. Project planning is included with our C360 agreement. Projects that have a well defined Scope of Work (SOW) are billed as fixed-fee. Projects with an open-ended SOW are billed on a time & materials basis. Project work requested with less than 5 business days of notice is subject to a surcharge equal to 25% of the project labor or $1000, whichever is greater.
Requests are prioritized as either Standard or Urgent.
Reactive tickets are prioritized by Severity and Impact, as defined in the chart below.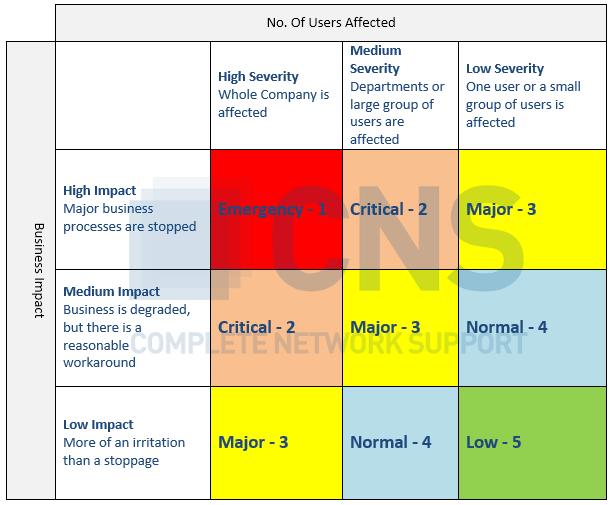 CNS works tickets based on Service Level Agreements (SLAs). Once a ticket's priority has been established, an SLA timer begins for the ticket. The chart below defines each priority and the expected SLA response and resolution times. Our goal is to hit SLAs 100% of the time.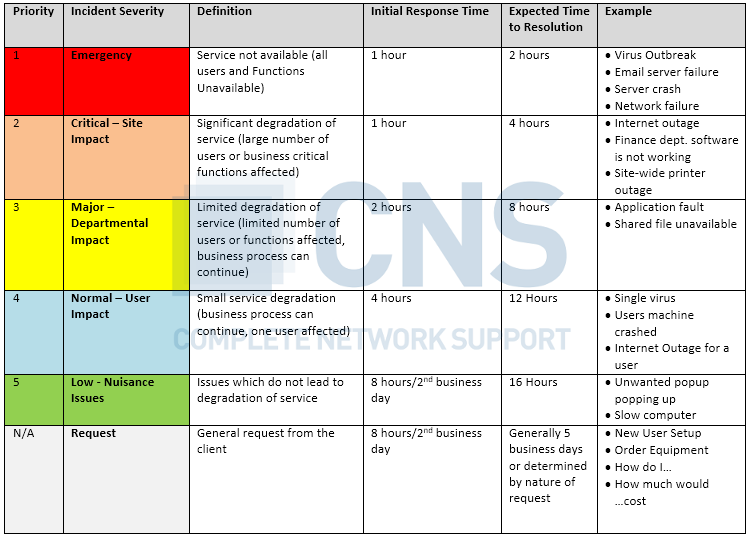 When you receive an email notification that your ticket has been assigned, you will see the priority listed in the ticket body. Use the chart above to calculate your expected response and resolution times based on the time your ticket was submitted.
Please be aware that if we are waiting for information or approval from a user, our SLA timer stops. For example, if you submit a ticket and one of our technicians responds requesting additional information, the SLA timer stops until that information is received.
If you believe your ticket was incorrectly prioritized, or if you simply need to request escalation due to time constraints, please call the help desk at (518) 507-5882.
If a ticket is marked as Resolved or Completed, but should not have been, please respond to the Resolved/Completed notification email to re-open the ticket. If it is still not resolved to your satisfaction, please call the CNS Service Desk and ask for the Service Manager or a Virtual Chief Information Officer (VCIO).